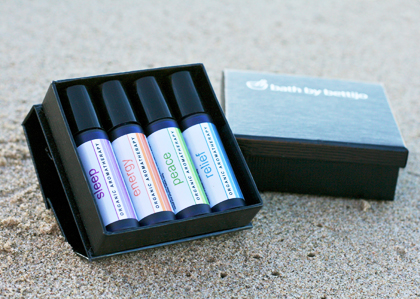 Organic Aromatherapy Set of 4
SRP $65.00
Your Aromatherapy First Aid Kit! This set contains all four of our Organic Aromatherapy serums in a pretty black box with magnetic closure so you can take it with you anywhere.

The mess-free, roll-on sticks deliver therapeutic serums that will help you feel better -- a drug-free way to deal with daily bothers. Made with only Certified Organic Essential Oils. Each stick is 0.3 fl oz / 9mL

WHAT DO YOU NEED?

SLEEP - Organic Lavender and Cedarwood Essential Oils quiet your mind so you can get the rest you need. Roll on temples and wrists at bedtime for sweet dreams.

ENERGY - Give yourself a caffeine-free kick. This stick gives you a natural boost using Organic Citrus Essential Oils. Roll on wrists and breathe deeply for a refreshing wakeup call at any hour.

PEACE - In need of a tranquil escape? Inhale this calming blend with Organic Bergamot, Eucalyptus and Spearmint Essentials Oils. Reminiscent of a trip to the spa, breathe deeply and exhale away stress.

RELIEF - An all-natural remedy for everyday tension and dull headaches with the analgesic benefits of Organic Peppermint Essential Oil.

Also sold separately.


Buy on Amazon.com