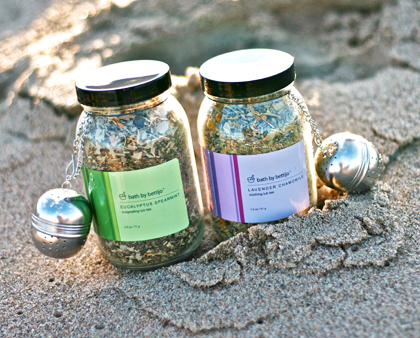 Tub Tea
SRP $24.00
The ultimate full-body chill out for your home spa.

As you soak with whole herbs and botanicals such as Spearmint, Eucalyptus, Lavender, and Chamomile, breathe deeply and feel your stress evaporate. We have two bath tub tea blends specially designed to soothe or relax. Contains enough for 30 uses.

To Use: Fill the reusable antique-style tea infuser (included) with a tablespoon of tub tea and steep as your warm bath fills. For a stronger tea, on stovetop bring a pot of water to boiling and add filled infuser. Boil for 5-10 minutes and pour entire contents of pot into bathwater. After bathing, simply discard the contents and hang the lovely metal infuser from the faucet until your next soak. For a facial treatment, toss a handful of herbs into a bowl of boiling water and inhale the purifying steam.


Buy on Amazon.com